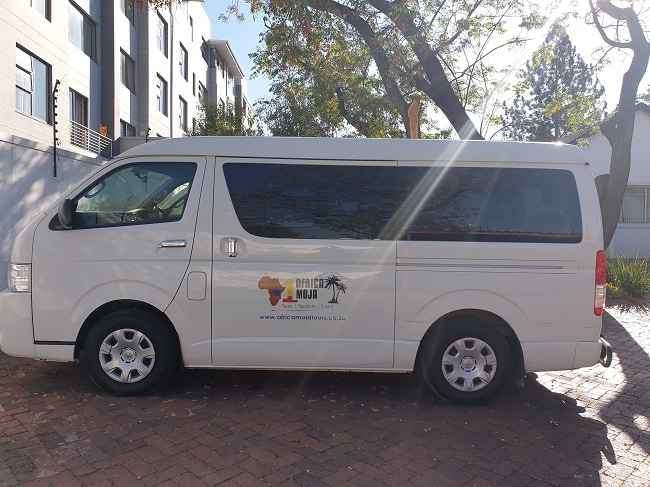 Africa Moja Tours & Transfers your Sanitized Shuttle Services provider during the Covid-19 Pandemic. We offer efficient and peace of mind Sanitized Shuttles that can be used to transport your Company staff or for yourself during the COVID -19 epidemic.
We have a wide range of fleet that can be used for various destinations in Johannesburg. Whether you would like to transport your staff or employees in a safe secure environment we can assist with these services.
Our Sanitized Shuttle Services are available throughout the day and our drivers are well trained on how to keep our customers safe during each ride
If you would like to protect your employee with Safe shuttle services, then Africa Moja Tours would like to partner with you.
Our commitment during the current epidemic is built on the below pillars that ensure you get the best care whether you are looking for Sanitized Staff transport or Sanitized Shuttle Services
Our commitment during the current epidemic is built on the below pillars
To ensure you get the best care whether you are looking for Sanitized Staff transport or Sanitized Shuttle Services
We do deep cleaning of our vehicles ever day with approved chemicals and after each trip, we deep clean hard surfaces to ensure the vehicles are always sterile
We ensure that there is a capped number of riders on each vehicle which in turn ensures that social distancing rule is in place.
Our rates are charged per vehicle and these ensure that you do not spend more on transporting your most important assets your employees
We do not allow your staff to enter our vehicles without face mask as per the guidelines of the government and these are observed for the whole trip
Our drivers always wear personal protective equipment and, we make hand sanitizer available on board of all our vehicles
Our industry experience in the tourism industry ensures that we pick all clients on time. We work hard to ensures we monitor traffic and use the best routes to deliver employees on time
Our vehicles on the road are supported by a dedicated 24-hour Call Center that ensures your staff can be