Africa Moja Tours & Transfers your Sanitized Shuttle Services provider during the Covid-19 Pandemic. We offer efficient and peace of mind Sanitized Shuttles that can be used to transport your Company staff or for yourself during the COVID -19 epidemic.
Africa Moja Tours offers Shuttles services and transfers to various destinations from OR Tambo International Airport. From an Individual person to big groups our OR Tambo Shuttles Services are the best in Town.
We can also transport from Johannesburg airport to Kruger National Park. If you have booked your accommodation in the Hazy View area or Kruger National Park, then we can provide this service at a very affordable rate.
Sun City Transportation. Sun City resort if South Africa Premium destination located on the Vast North West of South Africa with an abundance of hotels, Casinos, and a lot of water activities with Pilanesberg National Park not far from the resort.
We can offer affordable transfer from Johannesburg hotels or from OR Tambo International airport. If you are looking for a safe transfer to the Pilanesberg National Park, then Africa Moja Tours has got you covered.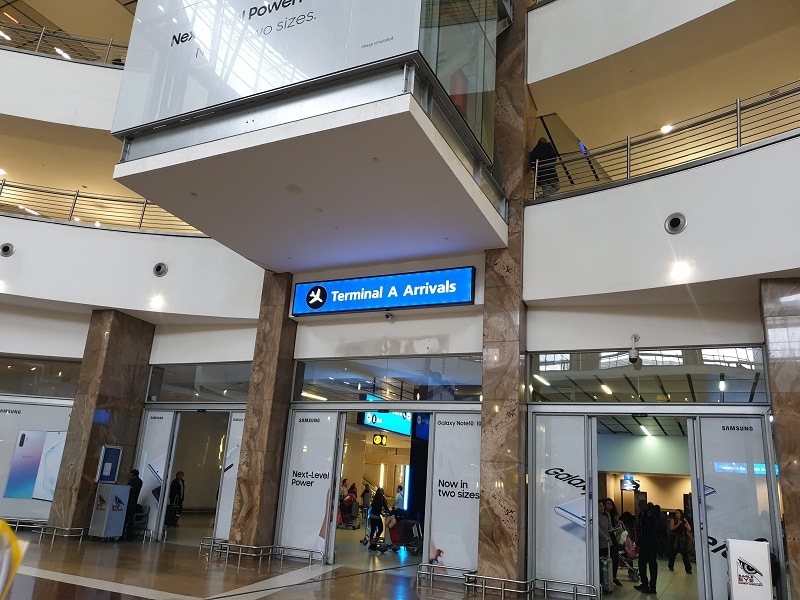 OR Tambo International Airport
One of the most popular airports in South Africa is the OR Tambo International Airport which has a long and interesting history. Located in Kempton Park this airport was founded in 1952 as the Jan Smuts International Airport named after the former South African prime minister two years after his death.
The airport was later renamed in 1994 after the elections to OR Tambo International Airport after the ANC President Oliver Reginald Tambo, speaking on its historical background. Even though popular now this was not always the case when it came to this airport.
It replaced the Palmietfontein International Airport which handled European flights in 1945. Before that, the OR Tambo International Airport was used as a test airport of how planes could land at high altitude since it is situated many meters above sea level.
Now a major airport in South Africa this heavyweight airport is the fully equipped travel enabler. Able to accommodate 28 million passengers annually, no wonder this airport is known as Africa's busiest airport.
Besides being known as the busiest airport the Or Tambo International Airport is also known as the best airport in Africa. The OR Tambo International Airport was awarded the best airport award in 2015 at the World Airports Awards.
The OR Tambo International airport is quite impressive as it serves as the primary airport for domestic and international travel from and to South Africa with its 24-hour medical clinic, fast and reliable connectivity for all your internet needs as well as host to one of the most popular airport accommodations known in South Africa. The OR Tambo International Airport is a true gem in South African travel.
If you are looking for Shuttle Services from Johannesburg Airport or OR Tambo International Airport, Africa Moja Tours offers these services. We also offer Shuttle Services to Sandton and transport to Sun City and Pilanesberg National Park.
Also, if you are looking for shuttle services to Places like Pretoria, Midrand, Centurion we can offer these at very great rates. Our shuttles are also highly sanitized, and hygiene is our utmost goal while offering these transport services.
We also offer Door to Door Shuttles as an added Service to our ever-increasing demand for reliable shuttles.
Lanseria International Airport.
Situated north of Randburg and Sandton this Gauteng Airport is everything you want from a private airport. Even though not as large as the South African heavyweights this airport has come a long way to be recognized as an internationally recognized airport.
The Lanseria International airport is strategically placing between two economic hubs in the Gauteng region hence its ability to attract an impressive clientele of travelers.
The Lanseria International Airport is not only placed in the perfect spot for economics but also for leisure such as that is it is a drive away from the Cradle of Humankind.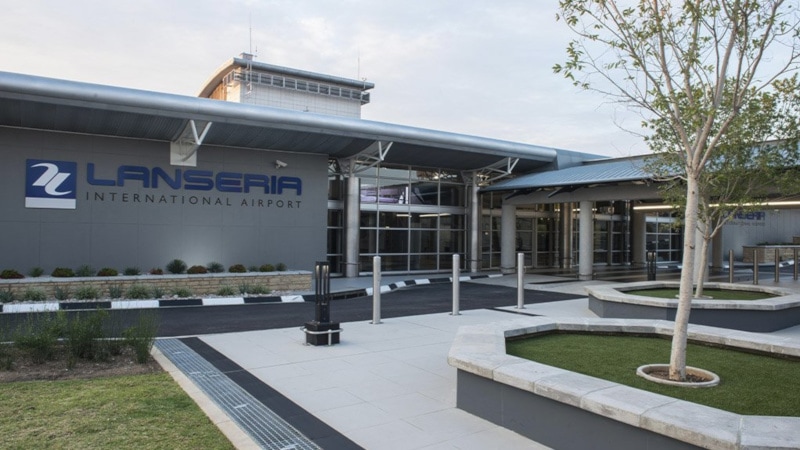 This airport with its private clients has private facilities such as lounges up to par with first-class, VIP guests benefits, and taster inspired menus.
The domestic flights that land in Lanseria airport include Mango Airlines, Kulula Airlines, and FlySafair Airlines from various regions in South Africa such as Cape Town, Durban, and Port Elizabeth.
Flights that land into Lanseria Airport are relatively cheaper than the ones that land at OR Tambo International Airport. Also, Lanseria Airport is smaller and close to Johannesburg Suburbs like Randburg, Fourways, and Bryanston.
Africa Moja Tours offers Shuttles from Lanseria Airport at affordable prices. If you are looking for Lanseria Shuttle to various destinations in Johannesburg or to Pretoria, we can assist with these services.
We can also offer transfers from Lanseria Airport to OR Tambo airport at exceptionally good rates. If you are traveling to Sun City Resort from Lanseria Airport, we can offer a custom shuttle to Sun City from these airports.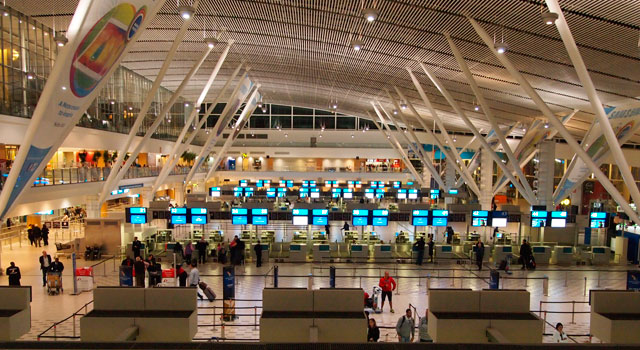 Cape Town International Airport.
As the most award-winning airport in Africa, the Cape Town International Airport is everything one would want from an airport.
This traveler gem is one that serves as the main airport to the city of Cape Town and has the capacity to accommodate about 10 million passengers annually, a hugely impressive number.
The Cape Town International Airport was opened in 1954 as the DF Malan airport but was also later renamed during the democratic election of 1994 to become the Cape Town International Airport.
This award-winning airport went through major improvement in 2010 during the Fifa World Cup to ensure more capabilities.
These capabilities include facilities such as banks, ATMs, foreign exchange facilities, Post Office, VAT Refund Point, prayer room, baggage wrapping and storage, and an ACSA Information Desk.
Another important upgrade that was included for the Cape Town International Airport was the different terminals built for different domestic and international flights with a central terminal building that cost a substantial amount.
The central terminal is also impressive with about 120 check-in desks and about 20 self-help kiosks for the more experienced traveller as well as a baggage handling facility.
The Cape Town International Airport is currently ranked third as the largest airport in the African continent and second in South Africa as the busiest airport.
With multiple best airports awards, the Cape Town International Airport does not disappoint. With easy commute also available for those leaving the airport traveling to various places all over the City of Cape Town its no wonder this airport stands out and not to mention the very impressive airport hotels also available. It's easy to see why this airport is making waves.
Shuttle Services from Cape Town Airport to various locations can be arranged from these airports. Also, the beauty of these shuttle services is that Cape Town Airport is not as busy as Johannesburg Airport.
A shuttle from Cape Town Airport takes about 20 to 30 minutes to get to Cape Town City. Africa Moja Tours can arrange these shuttle services when you send your request before 48 hours to your flight arrival.
Our reliable shuttle service will take you to your destination on time.
Cape Town airport is also the HUB for FlySafair and Mango flights. FlySafair is a budget airline operating domestic flights in South Africa. It has a good reputation for always being on time plus being able to offer flights at good prices. Most of our domestic customers that we offer shuttle services prefer to use these airlines.
Africa Moja Tours also offers Tours that can depart from Cape Town Airport or Cape Town hotels. Our Cape Town Day Tours can begin from Cape Town Airport if you don't have much time during your South Africa Tours.
King Shaka International Airport.
When one travels to Durban one would assume automatically that the airport serving this city in the province of KwaZulu-Natal would be the Durban International airport however that is not the case as the serving airport is the King Shaka International Airport.

The King Shaka International Airport opened its doors to its first travelers in 2010 on the 1st of May after the transfers of all travelers' operations were made from the Durban International airport which is now a Military airport.
The doors to this airport open just a month before the 2020 Fifa World Cup. A Shuttle Service from King Shaka to Durban Central takes about 35 minutes.
From this information alone one can imagine the cost of this airport and has been said to be the second most expensive airport in South Africa.
To add to its already impressive short history the King Shaka International Airport was also voted in 2012 as the second-best airport in Africa.
While still on the topic of airport awards the King Shaka International airport was also awarded in 2013 by Skytrax as the best airport in its capacity section.
The King Shaka Airport can accommodate more passengers than its current number which contributes to why it was awarded the best airport for capacity.
Another interesting fact about King Shaka Airport is its nature conservation efforts. This airport supports conservation efforts such as bird protection initiatives as well as rhino initiatives.
The King Shaka International airport hosted the rhino parade on its premises as a way of support the rhino initiative in collaboration with the Wildlands Conservation Trust and the Ezemvelo KZN Wildlife.
This airport also has a 100% indigenous garden landscape speaking highly on its support for everything South African as well as nature conservations. The King Shaka International Airport though recently developed is one that stands out with its many achievements.
If you are departing from King Shaka to OR Tambo International Airport and you require Shuttle Services while in Johannesburg, then Africa Moja Tours can arrange these.
A flight from King Shaka to OR Tambo Airport takes about 45 minutes and another 20 minutes to clear customs.
Shuttle Services can also be arranged at least an hour before you depart King Shaka Airport in Durban. You will need to contact the Africa Moja Tours helpline for these kinds of Services.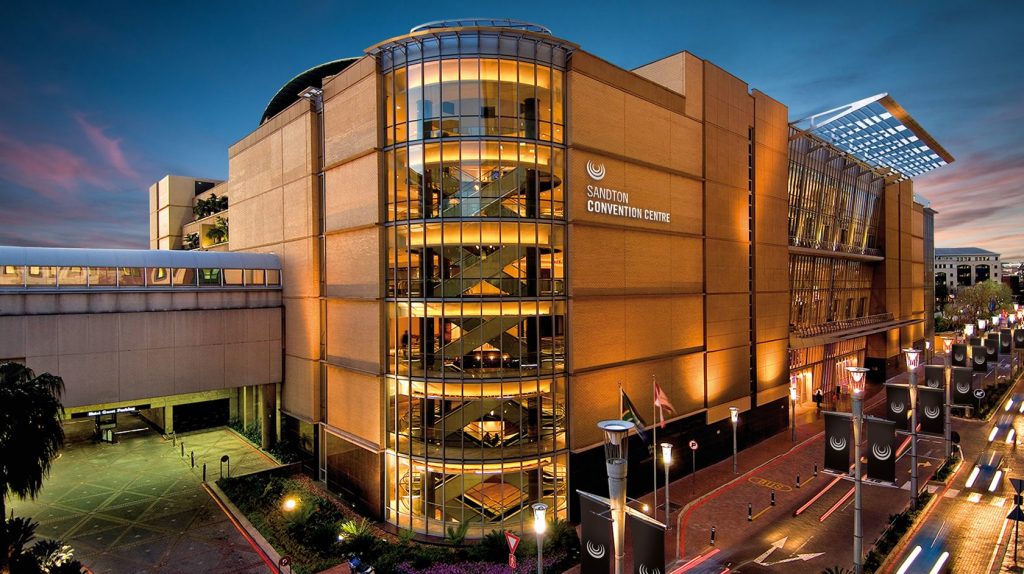 SANDTON
Sandton is one of the most well-known South Africa's main business centre, it is a home of about 10 000 businesses and some of the country's largest companies which include RMB, JSE and Investec are based there.
It is situated in the Johannesburg Municipality, Gauteng, South Africa. Apart from it being the business centre, it is also one of the tourist destinations in South Africa. Most shuttle services from OR Tambo go to Sandton Hotels.
One of the main attractions in Sandton is Sandton City which is one of the biggest shopping centers
in Africa. It has about 300 stores which include local boutiques, specialty stores, and a variety of restaurants and coffee shops.
There is no shortage of entertainment in the shopping mall as there is a collection of 11 movie theatres showing the latest releases to hit the country.
Outside the shopping center, there is Nelson Mandela Square which has a theatre, a library, and a bronze statue of the late former President Nelson Mandela.
Mandela Square is surrounded by world-class hotels and restaurants. It is a popular attraction for both local and international visitors.
One of the intentions of the statue was to honor the former president Nelson Mandela's vision of a free and just South Africa. Shuttle Services can also depart from all the hotels in Sandton to Various destinations in South Africa
Sandton houses the station of the Gautrain rapid rail link, which offers the best standards of public transportation.
The station is located on the corner of West Street and Rivonia Road and the system has direct connections to one of our biggest OR Tambo International Airport and inner-city locations such as Pretoria.
The Gautrain Station has convenient access to Gauteng's exiting venues including business areas and entertainment areas.
Sandton also hosts one of Southern Africa's most technologically advanced convention venues. The Sandton Convention Centre is a twelve-story building and it was specifically designed to provide a wide range of conventions, exhibitions, meetings, and other special events.
It is conveniently located in the heart of Sandton's business, hotel, entertainment areas and it is accessible to over 5000 hotel rooms.
Its convenient location allows delegates to attend a conference, exhibition, a celebration to have access to the shopping malls, accommodation, entertainment centers, restaurants, and clubs. The Centre also has about 11 000 secure parking spaces.
Sandton offers a variety of the most luxurious hotels and executive apartments. Adjoined to the Sandton City is a 5-star Sandton Sun Hotel which offers a variety of restaurants and bars. There is also a 5-star Michelangelo Hotel which is easily accessible from Mandela Square and is also a member of the world-leading hotels.
Situated across from the Gautrain Station on Rivonia Road is a 5-star Radisson Blu Sandton Hotel with a great city view.
There are also popular attractions near Sandton such as Montecasino, Johannesburg Zoo, Wanders Cricket Stadium, Melrose Bird Sanctuary, Rosebank Rooftop Market, Houghton Golf Club and many other attractions.
Today Sandton is known as Africa's richest square mile as it hosts lots of business activities, the world's top multinational companies, the most exquisite hotels and exclusive shopping malls, and entertainment areas.
If you are looking to book and stay at any Sandton Hotels, Africa Moja Tours can provide shuttle Services from Lanseria or OR Tambo International Airport.
We can also offer transport to Sun City from Sandton Hotels and if you are looking for a Transfer to Kruger National Park we can also assist with these services.
Our reliable shuttle service can also take you to other destinations such as Pretoria, Midrand and Centurion and drop you to OR Tambo and Lanseria Airports at a reasonable rate.